Elena asked Barzaghistore to entirely transform her villa in Stintino with a view over the stunning sardinian sea. The Barzaghistore team has engaged the development phase starting from the two client's requests: creating a third bedroom with its own bathroom and design a beautiful swimming pool inside the private garden. Barzaghistore has fully managed the refurbishment works, from the application for licenses to the demolition works, from the new construction to the systems, the finishes, the final testing and the design and installation of the furnishings.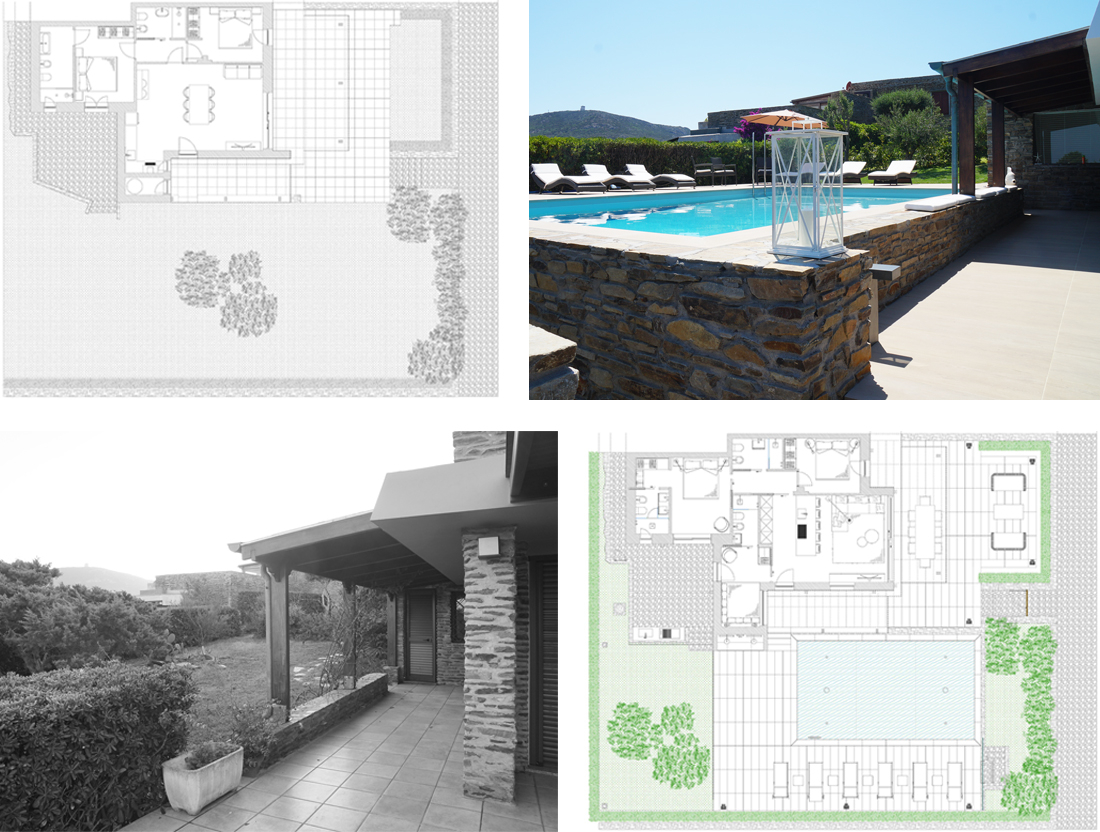 The villa, originally built in the '70, needed a full renovation to modernize the system as well as the finishing and the disposition. With the occasion it was installed a solar heating system for the production of domestic hot water that has turned the villa independent from fossil fuels with a cost saving for the owner and zero consumption and emission free. It was designed and installed from scratch a modern ducted air-conditioning system and have been installed Eclisse internal wall sliding doors to better use the available space. The living room, where it was installed a beautiful kitchen entirely designed from Barzaghistore, was enlarged by translating of about 120 cm the wall that looks up at the front terrace and installing a giant sliding window to give light to the room and connect it directly with the outdoor space. Several windows have been opened or enlarged to give light to the house.
Finally Barzaghistore has redesigned all the outdoor spaces enlarging the front terrace and designing and building the 9 metres long and 5 large swinming pool with a solarium of about 60 square metres. It was also enlarged and redesigned the back terrace overlooked by the master bedroom and the new bedroom, additionally it was equipped with an outdoor kitchen area with sink, sockets, bbq. The internal and external flooring and the wall tiles in the bathrooms are from Atlas Concorde, bathroom fixtures from Flaminia, taps from Zazzeri, shower cabins from Megius, and all furniture and bespoke marble washbasins from Barzaghistore.