The triplet of gasholders guide frames at King's Cross was a recognisable part of the London skyline long before many of the buildings that now define it. Following extensive refurbishment, it will re-emerge alongside the city's other architectural landmarks, returning to a transformed King's Cross as part of a unique residential development. What was once an industrial powerhouse is now an opportunity to live surrounded by celebrated museums and cultural centres, exceptional shopping, restaurants, cosmopolitan squares and venues, tranquil parks and gardens. The Gasholders offers every convenience of modern urban life and a peaceful canalside location, with considered landscaping and gardens to relax in at the end of the day. Its central London location and distinction as an international transport hub gives King's Cross residents easy access to all parts of the city, country and mainland Europe.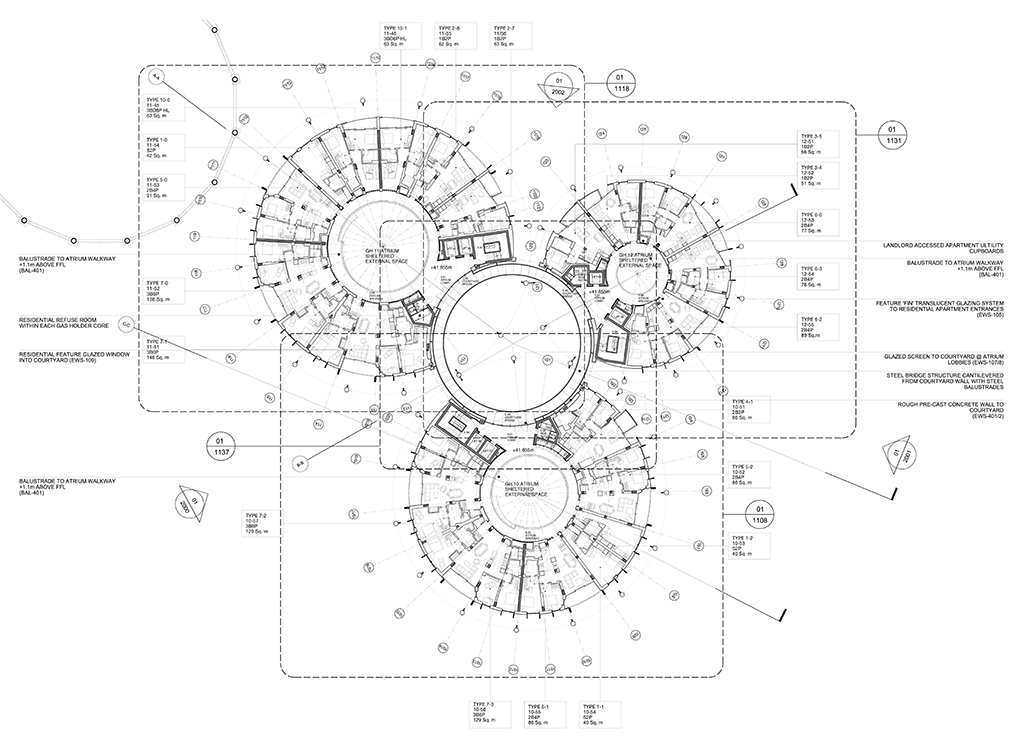 The Gasholders architecture is anything but ordinary; it piques the curiosity of all who see it. The building's façade appear alive and responsive to passers-by; it shift and change constantly as the people who live within it adjust their view. Most of its residences have generous private balconies or terraces with views across the capital. Full height triple-glazing emphasises this panoramic living alongside folding, perforated screens peppered across the façade for privacy and protection from the sun. For full impact, the mechanised elements are made of shimmering, warm metals that will catch the light as they are opened and closed, enhancing the profile of the Gasholders'contemporary architecture. The Gasholders offers apartments of the highest quality, finish and specification. All have bespoke kitchens with custom made brassware and steel worktops, poured resin floors and the latest in home automation. The elegant mix of different materials give a sense of understated glamour. Everything has been carefully chosen to ensure the Gasholders is a unique example of refined living at the heart of London's most exciting new cultural quarter.
Barzaghistore, in cooperation with WilkinsonEyre Architects and Jonathan Tuckey Design, has designed 135 luxury kitchens and some wardrobes managing the production, customization and fitting of these to be perfectly integrated in this amazing project based on the refurbishment of the King's Cross Victorian Gasholders built in the 1867. The kitchens were designed to be placed in the different apartments types expected from the project.